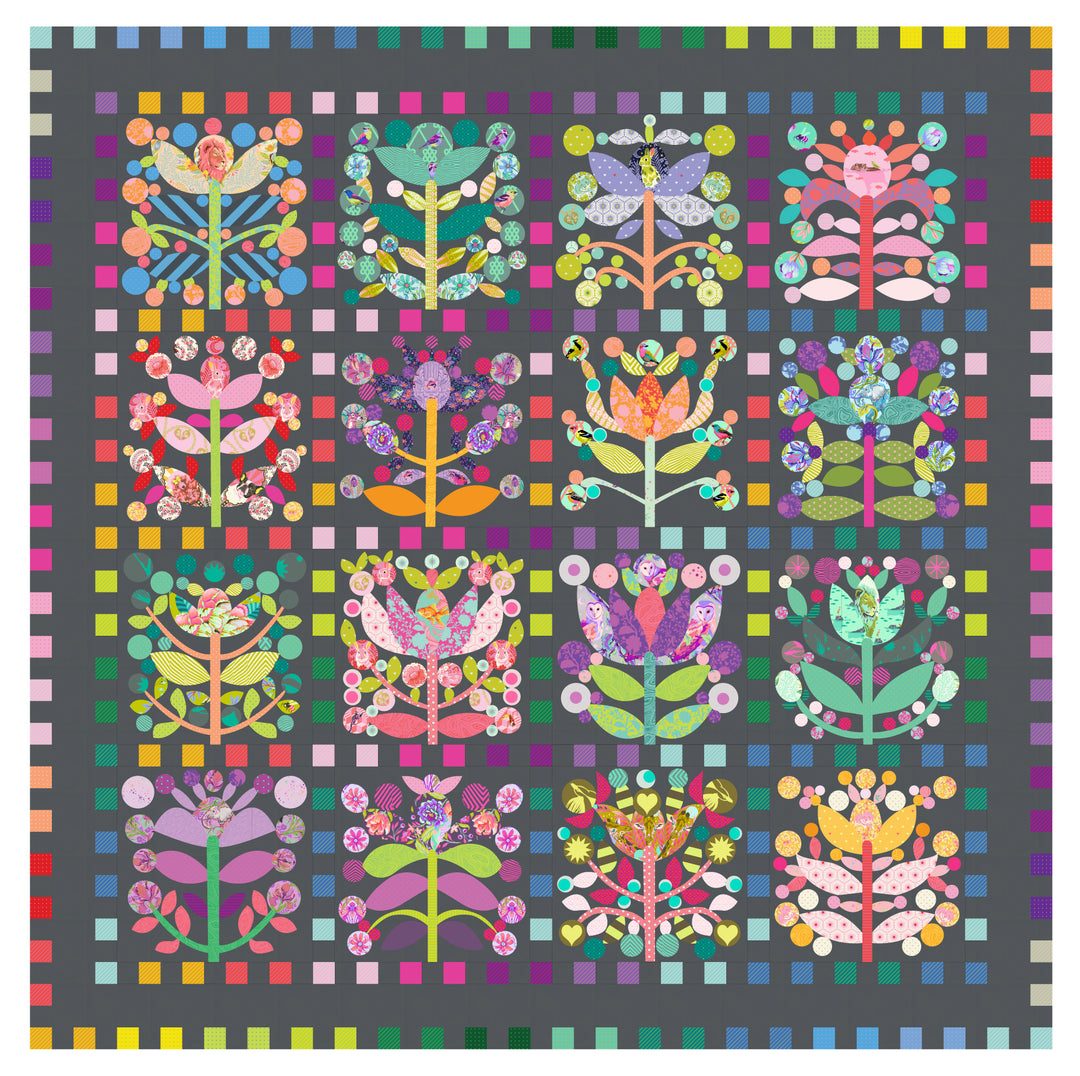 Lollypop Tree Block of the Month - Reservation
Regular price
$99.99 USD
/
We are SO excited to bring you our newest block of the month, Lollypop Trees, by Kim McLean!! This has been in progress behind the scenes here for quite some time, and it's so fun to be able to show you what we have up our sleeves! I know we're usually doing English paper piecing, but this time we have APPLIQUÉ on the menu!
Before you say, "Oh, heck no! I don't appliqué," let me share some info - there are MANY ways to do this, and you can choose the method you like most and fits best with your sewing style - you can do it by hand OR machine! There's no requirement to become a needle-turn pro, but we can certainly help with that if you choose!
Sandra has done the most amazing job rendering this in our favorite Tula Pink fabrics, and it's going to be a journey to learn new things and build an heirloom quilt with us! Same as with all our blocks of the month, you'll receive fabrics each month, optional thread add-ons, and an exclusive Facebook group where you can chat with others working on the same project, and share your inspiration! We will also be sharing several videos on appliqué techniques to improve your skills and help you along the way. A while ago, Tula Pink shared another of Kim's designs she'd been working on, and we instantly fell in love! We wanted to make this super approachable and attainable for even those that are new to appliqué, so another BOM was born! We hope you'll join us for this epic quilt journey!
Give me all the details:

Starts in late September, 2023! This will incorporate new Tula Pink fabric lines as they release, over the 9 month block of the month. We will take it slow and make it achievable and manageable! You will do 2 blocks each month and borders in the final month.
How much is it?
A $99 registration fee will hold your spot and be applied towards your total cost. Each month will start at $50.95, and you can custom-select your add-ons for your preferred method of appliqué. 
What Tula lines will it include?
We have included some of our favorite Moon Garden prints, Everglow, True Colors and solids, and it will incorporate Besties as it becomes available to make a masterpiece quilt featuring all of Tula's best prints! We've done all the hard work to source the fabrics and deliver a nice little parcel of happiness to your mailbox each month.
Do you ship Internationally?
Yes! We do, but we unfortunately can't control the duty/import taxes and fees of your country, so please research these and be prepared. We are bound to disclose the full amount of the BOM package on the customs form and can't mark it as a gift. We also can't split packages to reduce the customs fee, either.
Where can I get the pattern?
The pattern is included in this program as it's required for each participant. You will receive this the first month. There are no refunds if you already have the pattern - this is the agreement we have with the designer to ensure each person has the pattern. 
When does signup close and when does the BOM begin?
Signups for this BOM is open now, and will close August 31st. We recommend signing up early! The BOM will begin in September of 2023, shipping monthly for 9 months.

What will it cost?
Registration fee is $99.99 (non-refundable at any time, but goes towards the cost of your overall BOM cost) and then $50.95/month without thread, $60.95 per month with 2 coordinating spools of Decobob 80 wt thread. The BOM subscription INCLUDES THE PRINTED PATTERN and fabric, but does NOT include mylar templates to help for appliqué, or any appliqué paper, which are sold separately at signup. We are offering this BOM to both domestic and international customers. Shipping costs will be based on weight for current USPS/USPS Mail Innovations rates to your location. 
Since we are placing the orders for the materials for the block of the month so far in advance, unfortunately NO CANCELLATIONS WILL BE PERMITTED and NO REFUNDS WILL BE ISSUED. There is no refund or credit issued if you already have this pattern - per our agreement with the designer, we are ensuring each participant has a copy.
What does shipping cost?

Shipping costs will be based on weight for current USPS/USPS Mail Innovations rates to your location. Typically, domestic rates are about $9/month and INTL are $11 after the first month. This can vary as it's weight dependent but you can see your shipping costs each month once the BOM is loaded to your account in July.
What add-ons and tools might I need? 
We highly recommend these tools, depending on which method you choose to appliqué. These will be shipped SEPARATELY from your BOM purchase, just to keep everything straight in our system!
IMPORTANT: This, like all of our BOM's, is a fabric-only Block of the Month. The pattern is included. Appliqué papers or mylar templates and thread are sold separately. 
 What have people said about our previous block of the month programs?
A few notes:
This is a traditionally hand-sewn quilt, BUT, we will show several ways to do appliqué including by machine. However, the borders are machine pieced. 
Final size is approximately 94" x 94". You can opt to add a border to make it larger.
Once signups close, we are UNABLE TO ADD/DELETE/CHANGE ANY SUBSCRIPTIONS. 
Cancellations aren't permitted after enrollment as items are ordered based on your enrollment. No refunds will be issued at any time. If you already subscribe to our BOM's, we cannot combine shipments.
Due to ongoing supply chain issues, the start date may be pushed back if necessary to accommodate these delays; we will reach out via email if there are any updates/concerns. We reserve the right to increase/decrease shipping and fabric costs as required. Costs are ever-changing in this post-COVID time and costs can fluctuate. We will provide notice if pricing changes more than 10%.

DEADLINE TO ENROLL IS AUGUST 31, 2023.
---