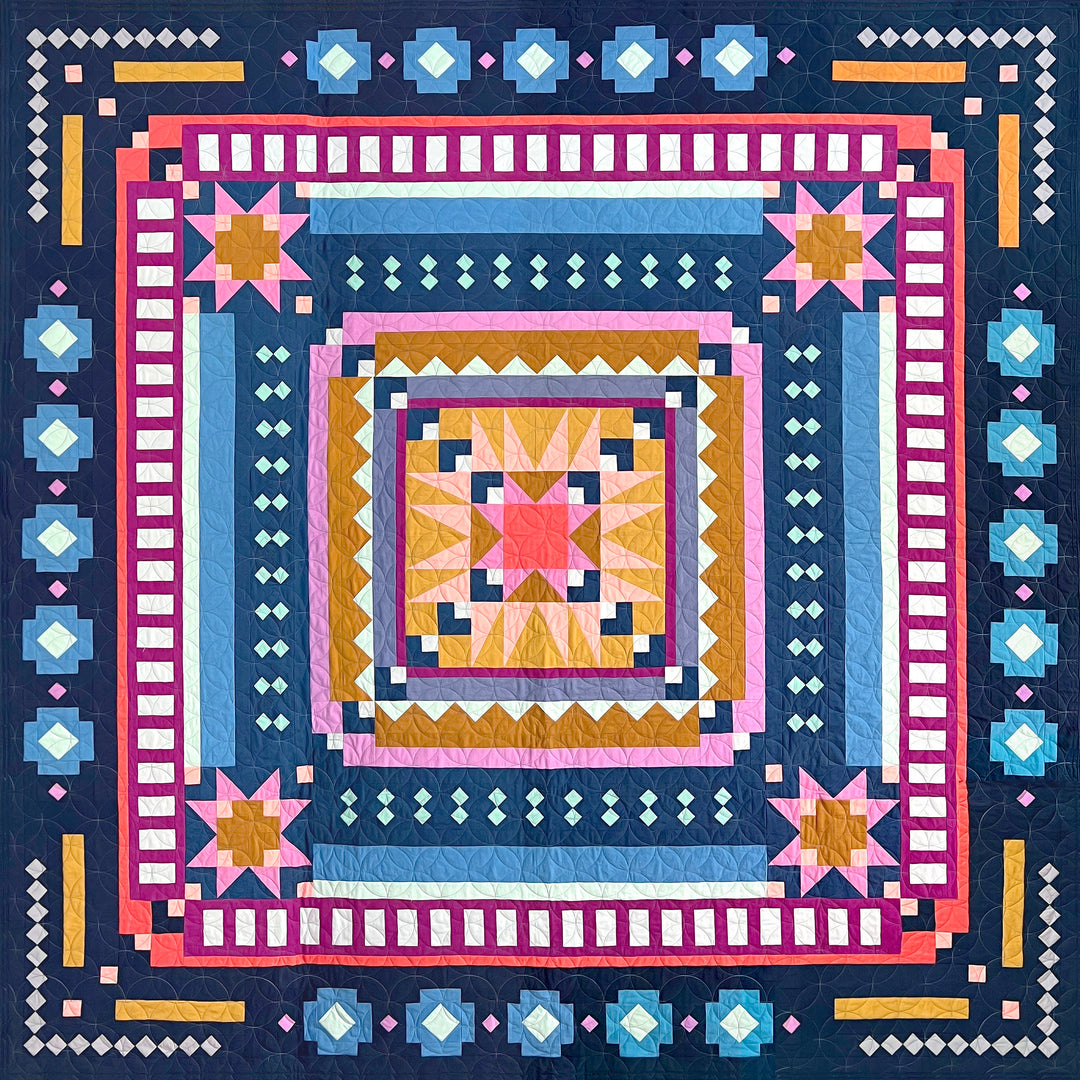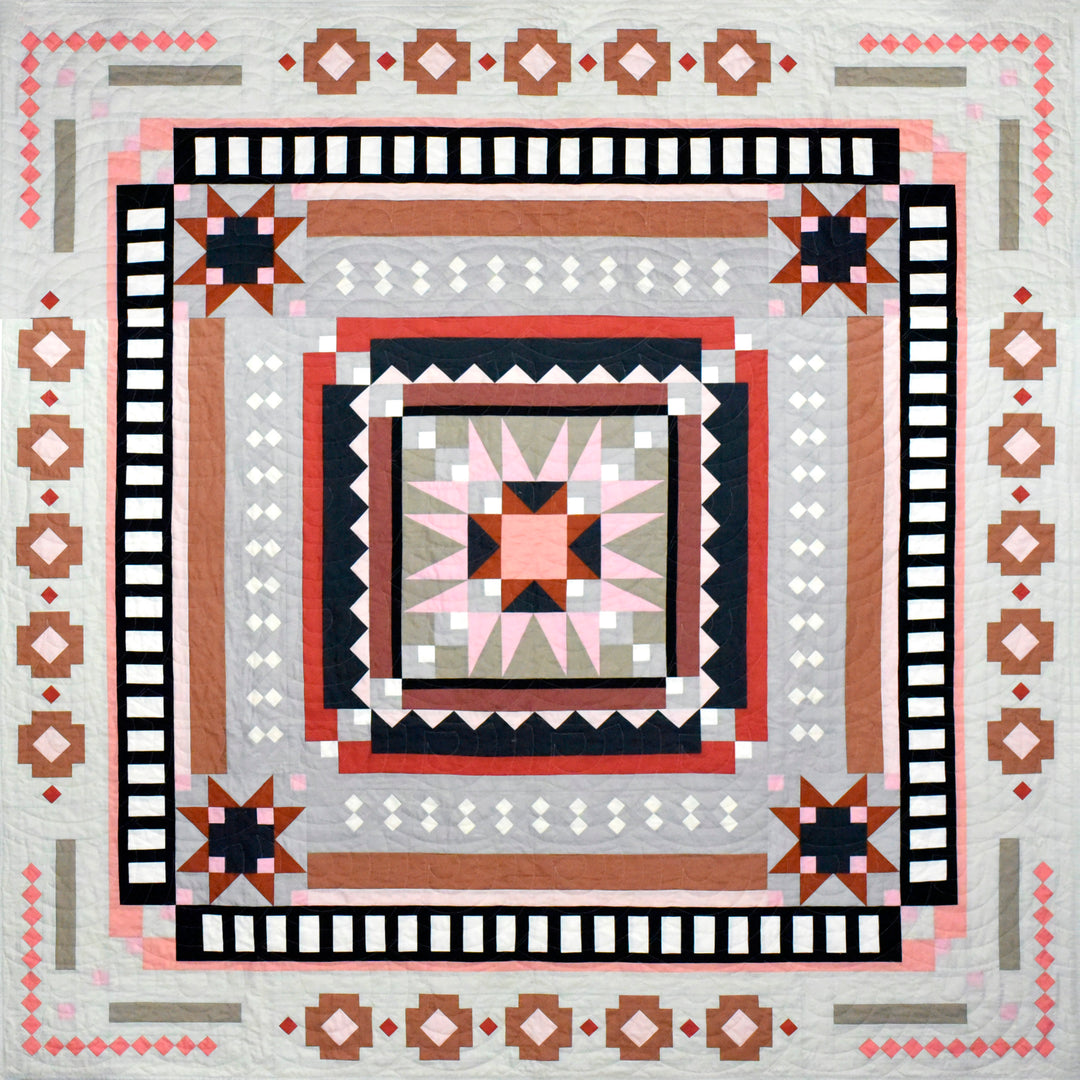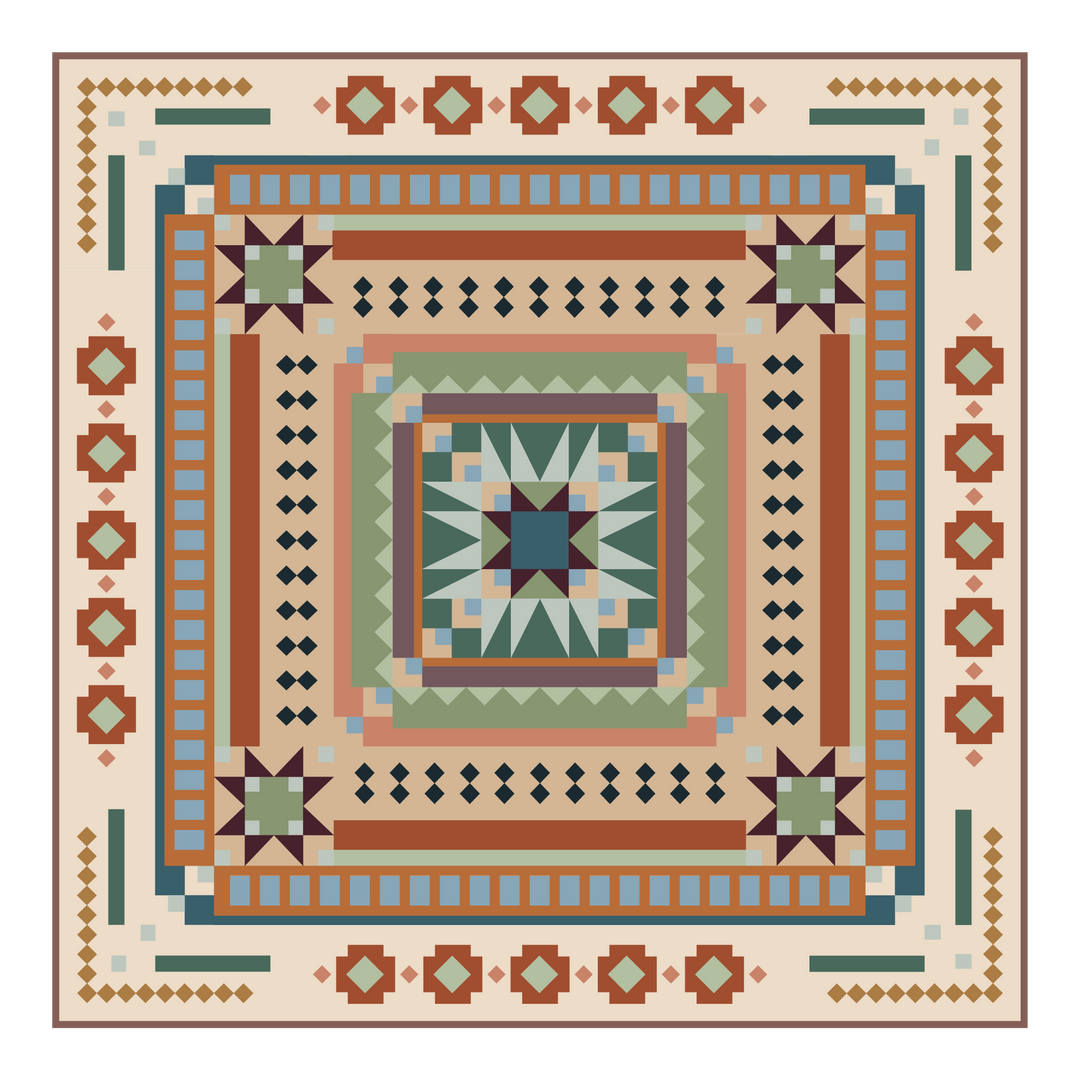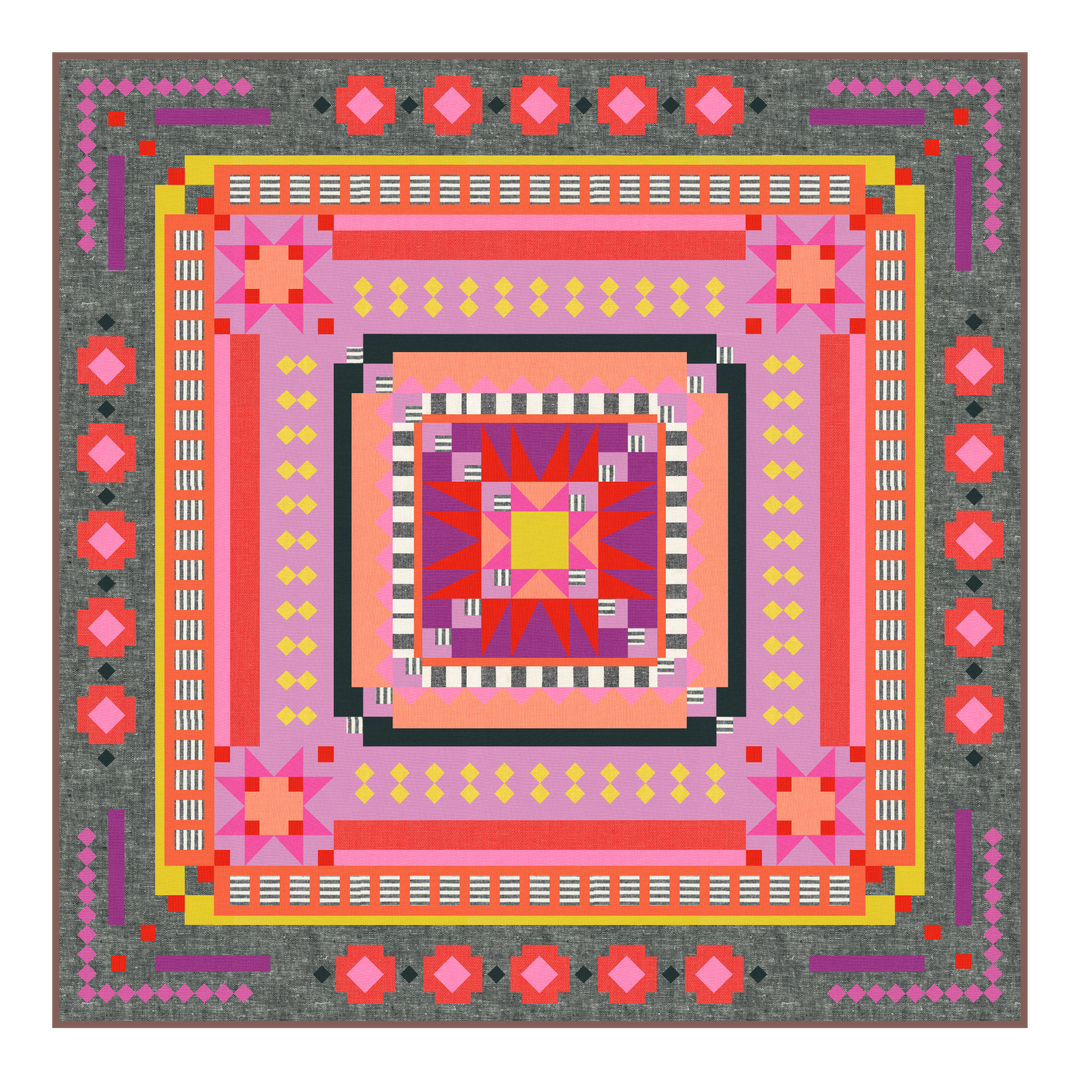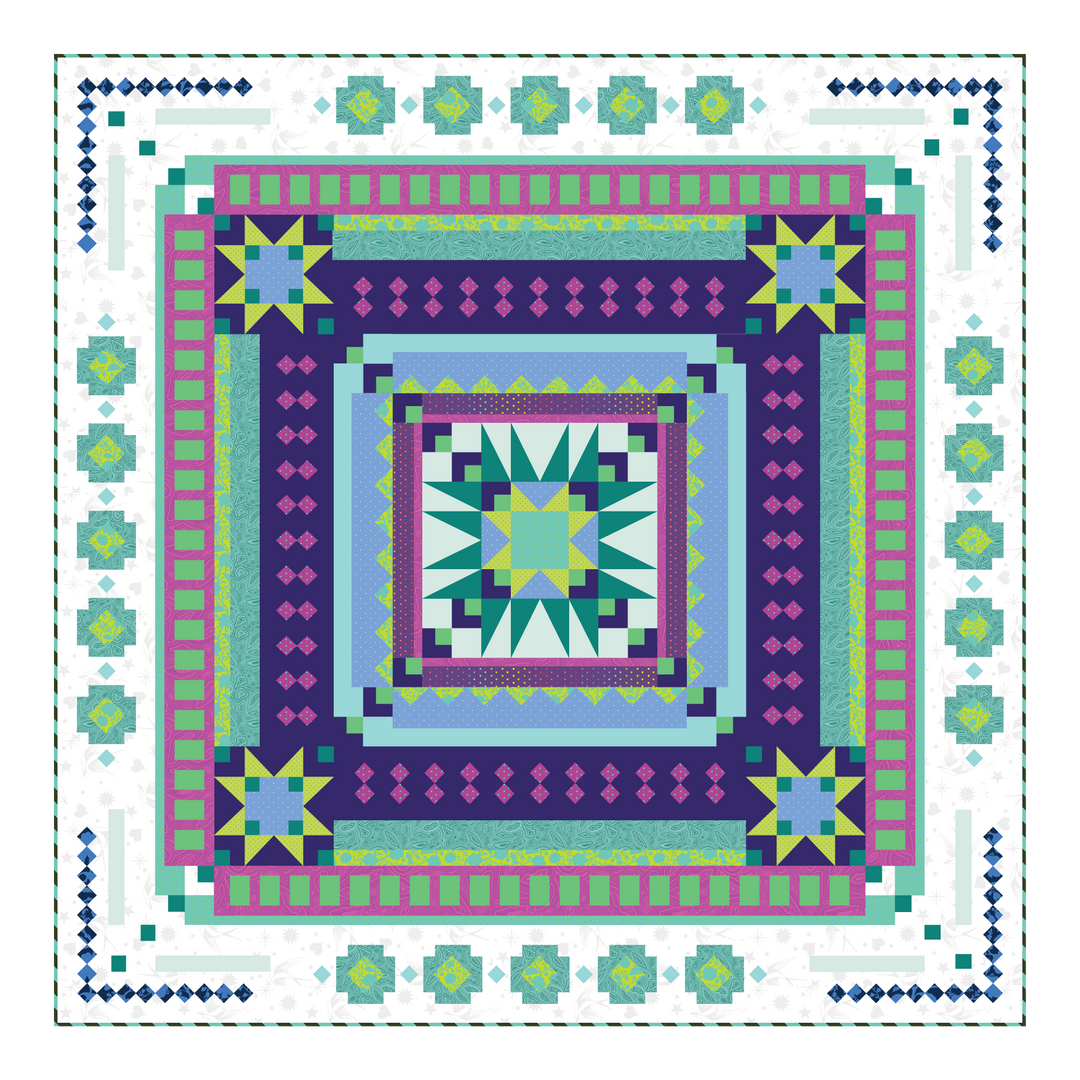 PREORDER - Roam - Block of the Month - REGISTRATION
Regular price
$30.00 USD
/
Give me all the details:
The Roam Block of the Month, available in Multi and Neutral, is a take on traditional take on a medallion quilts, but with a decidedly modern look and a brilliant display of colors. The eye catching palettes from Tara live between harmony and discord, but always with a sweet, pleasing feel.
This quilt is made up of 7 different rounds and sashing strips and will finish at 82" square. The techniques range from simple piecing to strip piecing and a no-tear paper piecing technique. This quilt can be made with traditional foundation paper piecing or a new method using glue. The advantages to this technique are the foundations are reusable as they are not sewn through, and there are no papers to rip off the blocks after they are sewn!
Designed by Tara Faughnan

Finished Size: 82" x 82"
Skill Level:
Confident beginner to intermediate
Technique: Machine pieced
What's included?
The BOM will be sent monthly.
Colorful mix of Windham Artisan solids, Windham Ruby and Bee Solids, Art Gallery Pure Solids or Free Spirit Tula Pink favorites. 
Pattern
There will be video tutorials available each month from Tara. They will include tips, tricks and technique demos.
What's the schedule?
Each month we will make one row of the Traverse Quilt:
January - Center 
February – Round 2
March – Round 3
April – Round 4
May – Round 5 Part 1
June – Round 5 Part 2
July – Round 6 Part 1
August - Round 6 Part 2
September - Round 7 Part 1
October - Round 7 Part 2
November - Round 7 Part 3
December - Quilt finishing! Binding will ship but please purchase backing separately.
When does signup close and when does the BOM begin?
Signups for this BOM will be open through DECEMBER 31, 2023, and then we will have limited spots thereafter. We recommend signing up early! The BOM will begin in January of 2024, shipping monthly for 12 months.

What will it cost?
There is a non-refundable registration fee of $30 and then each month (beginning in January 2024), you will be charged $19.50 monthly. The BOM subscription INCLUDES THE PRINTED PATTERN. We are offering this BOM to both domestic and international customers. Shipping is extra - see below.
Since we are placing the orders for the materials for the block of the month so far in advance, unfortunately NO CANCELLATIONS WILL BE PERMITTED and NO REFUNDS WILL BE ISSUED.
What does shipping cost?



Shipping costs will be based on weight for current USPS/USPS Mail Innovations rates to your location. Generally these are $7 for US Domestic, $11 for INTL and can be subject to change based on current rates. Shipping rates are not guaranteed and can change without notice. For example, some months weigh more than others and therefore will cost a bit more to ship. Rest assured, we always ship as economically as possible.
 What have people said about our previous block of the month programs?
A few notes:

This is a machine-sewn quilt
Final size is approximately 82" x 82". 
12 month BOM program beginning Jan 2024 and ending Dec 2024.
Once signups close, we are UNABLE TO ADD/DELETE/CHANGE ANY SUBSCRIPTIONS.
Due to the setup of our Block of the Month subscriptions cancellations are not permitted at any time during the BOM duration. No refunds will be issued at any time for any fee, charge, or shipment. If you already subscribe to our BOM's, we cannot combine shipments.
Due to ongoing supply chain issues, the start date may be pushed back if necessary to accommodate these delays; we will reach out via email if there are any updates/concerns. We reserve the right to increase/decrease shipping and fabric costs as required. Costs are ever-changing in this post-COVID time and costs can fluctuate. We will provide notice if pricing changes more than 10%.
NOTE: By signing up to this BOM Program you agree for your credit card to be charged the higher amount for month 1 and then each month for the cost of the program, plus shipping, for the duration of the 12 month BOM program. If your shipping or billing details change, we require this information in order to continue to send your BOM Program at the same time each shipment. Subscriptions that have been shipped without notification via email to orders@pinkdoorfabrics.com AND proof of address change on customer account (via these steps), will be at the cost of the customer. Monthly payment is automatic and will be charged to your chosen credit card the same time each month. When your credit card declines, our automated system will attempt to charge 3 more times before automatic cancellation. To avoid delay (and a $25 admin fee to reinstate), please ensure you contact our team to advise of any changes.
---