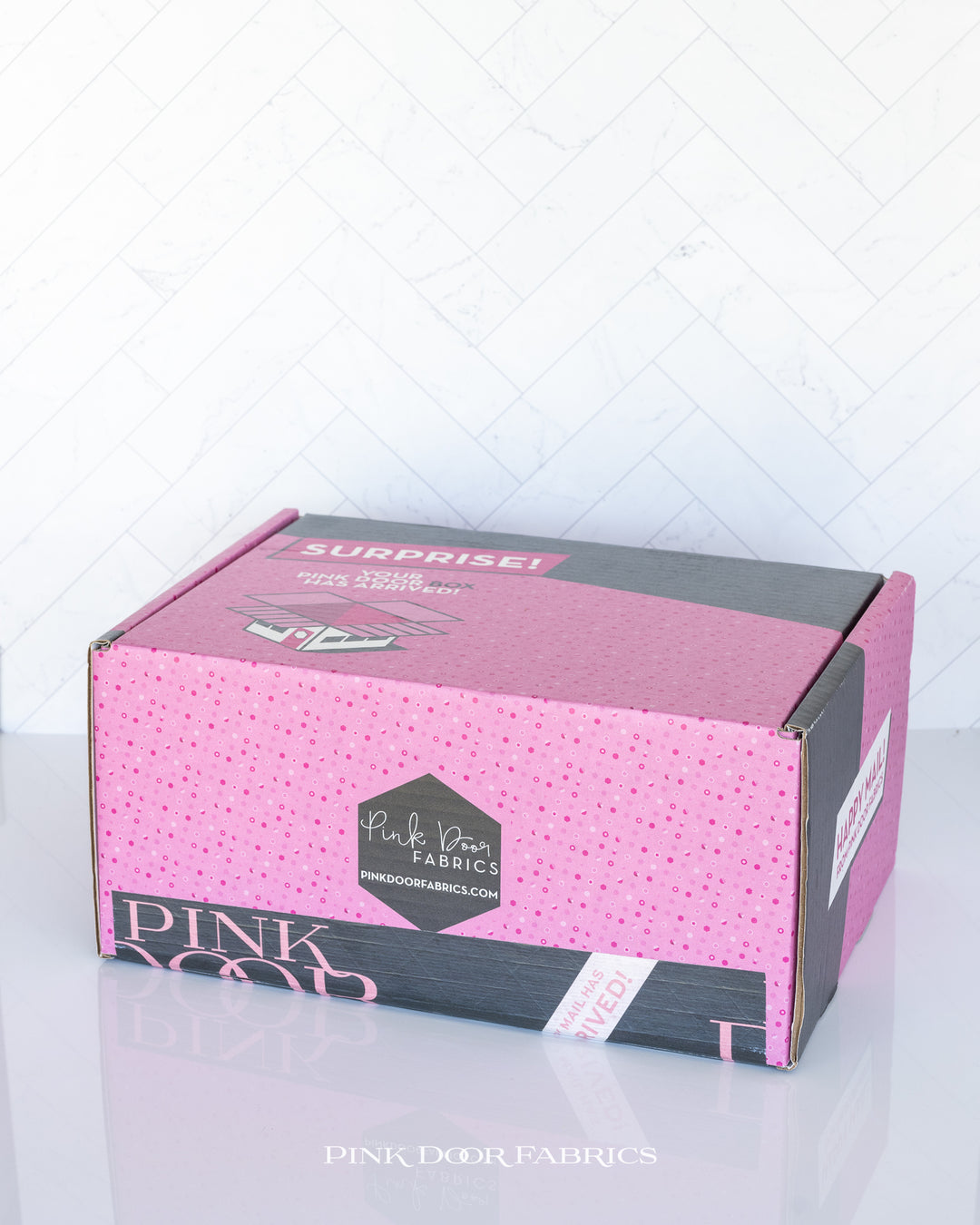 PREORDER - Pink Door Box - A curated companion for Tula Pink's collections!
Regular price
Sale price
$75.95 USD
/
Woohoooooo! We have had this idea milling around in our brains for SO LONG, and we're finally bring it to fruition!
We set out to redefine the "subscription box," while offering a few of our favorite things - fabric, and all things TULA PINK!!! So, we present the Pink Door Box. It will release with each of her three collections per year, and we have custom-designed several of the items that you'll be receiving, which aren't available anywhere else!!! In addition, we will include awesome items from the likes of By Annie, Paper Pieces, Aurifil Threads, Renaissance Ribbons, and many more! 
Our third box is for Tula's new Roar! collection! 
Inspiration statement
When I was a child I believed that every hill I saw was simply where a dinosaur laid down and died and then grass grew over it. I have no idea where this information came from but to my 6 year old mind this was a flawless piece of logic. I used to look out the window and try to guess which kind of dinosaur each hill was hiding while checking my children's encyclopedia of pre-historic animals. I was pretty good at it, considering this was my own theory I was correct 100% of the time. As an adult the dinosaur wing is still my first stop at the Natural History Museum.
Dinosaurs are amazing and huge and mysterious. They lived tens of millions of years ago and the fascination with these giant creatures still exists today. Is it their size? Definitely. Is it about how differently they moved and lived? For sure. Is it how little we still know about them and the world they existed in? Absolutely.
Everything that I do as a fabric designer is about indulging my childhood fantasies. I try to hold on to all of the things that we so easily let go of as we grow up like wonder, amazement, creative logic and delight. Typically dinosaur fabrics are for children and I don't know who made that decision but I wildly disagree. Roar! is whimsical take on fancy dinosaurs for those of us who keep one foot firmly planted in fantasy. My pre historic landscape is drenched in details and color. Here you will find a sophisticated T-Rex in a topiary, A Triceratops out for a stroll on a windy parkway path, Happy little hidden Raptors in a dainty damask and Pterodactyls taking time to smell the flowers. It's just your average lazy afternoon in the garden with the giants of Earth's history.
Here are the details….
+ When does it ship?
We are timing these to ship with each of Tula Pink's fabric collections (this is approximately three per year, May, July and October/November). We will close orders for the box ahead of the order deadline with Freespirit fabrics, and they will ONLY BE AVAILABLE TO SHIP WHEN THE FABRIC COLLECTION SHIPS; we won't continue to have these available after the initial-order for each collection has closed. For example, this Tula Pink Roar! box will close DECEMBER 31st, 2023, and ship in May of 2024.
+ What does it include:
You can select to include the "base collection" of Tula's newest release, in fat quarters, half yards or full yards, and then select to add on optional solids (quantity will vary) in addition to the box itself, which is comprised of all the top-secret goodies we've designed and curated to perfectly coordinate with that fabric collection. 
+ What are the options? 
There are four levels available.
| | | | |
| --- | --- | --- | --- |
| Basic | Fat Quarter | Half Yard | Full Yard |
| | | Roar! Half Yard Bundle | Roar! Full Yard Bundle |
Please note: Please order additional fabric if you're looking to collect cameos or motifs. These are not fussy cut.
+ What does it cost?
$75.95 for the Basic Roar! box (no Roar! - only coordinate solids and goodies) plus shipping, based on your location. Fabric collections vary in size and so will pricing as a result. You can add on the fabric precuts in whatever size you prefer at checkout. We do ship Internationally. Fat Quarter, Half Yard and Full Yard options will include that size bundle of fabric, plus the extra solids and goodies.
+ Do I have to commit to a recurring charge?
NO! That's the best part of this - you get to pick which boxes you'd like to receive, but the only catch is that we have to close orders before the Freespirit cutoff date for ordering fabric, so don't delay if you do want to get signed up. The deadline for the Roar! box is DECEMBER 31st, 2023. You will automatically be enrolled for future boxes; however, shoot us an email at orders@pinkdoorfabrics.com if you'd like to cancel the next box and we'll cancel it for you! We cannot cancel boxes after any subscription closure deadline. So if the next box closes for signups on October 25th (for example), you need to cancel before that date or we won't be able to cancel that box because it will have been ordered for you. 
+ In Summary 
This box is for Tula Pink's new Roar! collection.
You can choose the size of fabric cuts you want for your box (or none at all) and we'll do the extra goodies! If you've already purchased Roar! from us, you can choose to only do the goodie box, so you won't receive Roar!, but you will receive the coordinated solids plus some amazing goodies!
You must signup by DECEMBER 31st, 2023.
This will close for Roar! and then we won't be able to open it til closer to the next Tula release!
This box will ship in May 2024, not before.
IMPORTANT: Anything that you order with this box that is in-stock, will be held until the box ships and you will need to purchase additional shipping as these boxes will be full.
Sign up now! - spots are limited based on production capabilities, so be sure to secure your spot!
---