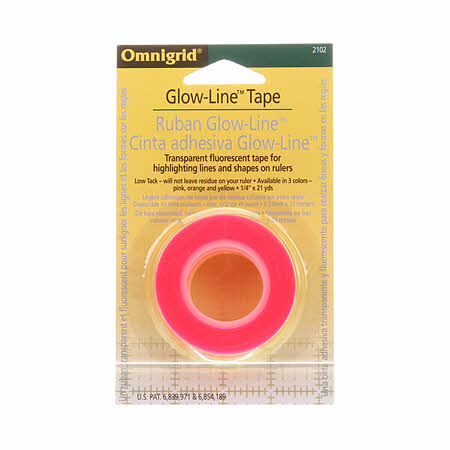 Omnigrid GlowLine Tape
Low Tack will not leave residue on your ruler. Each roll contains 1/4in x 7yds. Total package contains 21yds of tape. Glow Line makes it easy to find measurements and shapes. Especially when rotary cutting repetitive pieces. You can use Glow-Line either underneath or on top of Invisi-Grip.
Select the color you prefer and apply tape over the desired measurement on back of the ruler, then trim even with ruler edge. When cutting strips, automatically look for the highlighted line or area, preventing the common mistake of cutting the wrong size. When finished using, simply pull tape off of ruler and discard.
Color: Pink, Orange and Yellow

Made of: Plastic

Use: Ruler tape

Size: 1/4in x 21yds

Included: 1 Roll of Tape
---
SKU: OG2102
Manufacturer: Omnigrid